You've got a lot of stuff, but not a lot of places to put it. Looks like you need some storage solutions and that's just what we have for you.
Helpful tips to help you do more with less space.
Before you re-organize, first you need to de-clutter. Take a methodical, systematic approach as you go through your things.
Ask yourself if you really want that dusty set of how-to books, and whether you really need a backup ironing board. If you're hanging on to a family heirloom you don't use, try asking a sibling if they'd like it.
Don't just think about what you can toss, but how and where you can better store what you're keeping. And try not to let clutter build up again. That means giving every item a home.
There's more to storage solutions than cramming your belongings into storage areas. It's about taking a thoughtful, creative approach to making the very best use of the space you have. Let's start with areas you may not have considered storage places.
Start with what you have.
Windows aren't just for looks
.
Additional space for plants can be on the window sill, as windows aren't just for looks. A window sill or ledge can provide great space for plants and small trinkets without taking up table space or floor space, and spruce up your view.
Make Use of your radiator.
Radiators can be turned into a flat surface for additional storage. Cover it with a slab of wood or marble and use the space for books, nick-nacks, etc. Nobody said storage organizing ideas had to be complicated.
Wall-to-wall solutions.
Don't let your home's walls go to waste. Utilize them by mounting hooks to hang coasts, hats or anything else that can hang securely from a hook.
Fill those suitcases.
You'll find storage solutions for small spaces in unexpected places. If you're not a frequent traveler, or you have extra luggage, put it to use storing your winter (or summer) clothes. That'll free up closet and dresser space.
Utilize the storage space under your bed.
Instead of collecting dust, let all those available square feet serve as storage. You could make even more space by propping your bed up. An easy way to get some extra height under your bed is to try bed risers or an extra tall bed frame.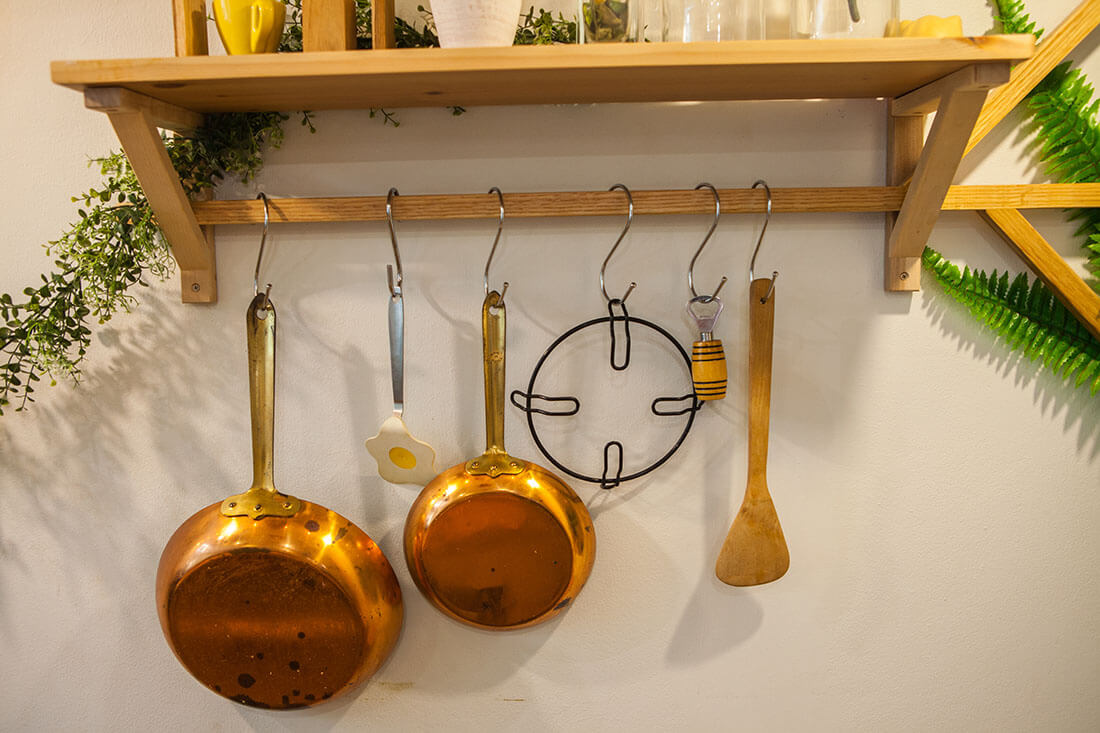 More DIY Storage IDeas
Once you took a good look at your home and maximized its existing features, it's time to start considering potential DIY improvements. It helps to be a little handy, and to have some how-to info, but here are a few quick, simple suggestions.
Hang a piece of peg rail in the kitchen, add some hooks, and keep your pots and pans organized.

Put a ledge above your sofa, a shelf over a doorway, or add another shelf above the existing shelf in your closet.

You're not done with the closet yet. Leave enough space (around 66 inches) from the floor to the rod where you hang your clothes to create a double-decker setup. Install a second rod at approximately 35 inches from the floor, allowing you to hang your pants on two levels.
Get creative with your kitchen cabinets. There are plenty of DIY cabinet ideas to add space.

If you have a basement or garage, you probably have exposed joists running across the ceilings. Turn that dead space into clever storage

by installing wire shelving to the undersides of the joists.

If you're confident in your DIY skills, consider transforming your staircase into a space for added efficiency. Visualize the area underneath as a potential nook for bookshelves, pull-out drawers, a bench, a desk, a pantry, a cabinet, a closet, or even a place to hang your bikes - the possibilities are endless!
Top Storage Solutions for Purchase
Okay, maybe you're not that handy. No problem. There are plenty of pieces you can purchase to make your place feel less crowded. We've picked out just a few examples.
The storage ottoman: practicality with purpose.
Ottomans were invented in Turkey about 300 years ago during the height of the Ottoman Empire. Maybe they needed something to let them rest tired feet, or maybe they were thinking ahead to a time when you'd need a simple storage solution. Either way, you can find storage ottomans in any form from a simple footstool to a seating bench.
Open the top and you have a place for pillows, blankets, or anything that'll fit. You can even get a sleeper version that holds a pull-out bed inside. In fact, there are many other pieces besides ottomans that do double duty—chests, benches, end tables, even beds.
The Standing Cabinet: Tall and skinny never looked better.
There's no end to storage ideas for small spaces. Think there's no room over there for a cabinet? Think again. A tall, narrow cabinet can handle all kinds of stuff that would otherwise be looking for a home. These cabinets are great for storming brooms, mops, and other hard to store long objects.
The Shoe Rack: If the shoes don't fit, you must commit to a creative solution.
Rather than ask you to pare down your collection, we suggest looking up—as in above the closet door. One or two over-the-door shoe racks should do the trick and give you some bonus floor space.
The Bed Risers: They're not just for dorm rooms anymore.
Remember that space under your bed? A set of heavy-duty risers will lift your bed more than half a foot, giving you a whole lot more space to put stuff. Check this version out—it comes complete with USB ports.
At Frontdoor®, we know you love getting things done around the house. Staying in control of your to-do list is easier when you can keep the small things from turning into bigger—and more expensive—ones. We're here to make it easier to prevent problems instead of reacting to them and provide helpful, expert advice to solving them.
Want to learn more about how to create more storage space, or any other household tips? Download the app if you haven't already, and chat with a helpful, friendly Frontdoor Expert.
Frontdoor assumes no responsibility, and specifically disclaims all liability, for your use of any and all information contained herein.
Was this article helpful?