You're a homeowner, and now that you own this sweet piece of real estate, you also own the job of maintaining it.
Armed with some basic information and a few common tools, there's no reason why you can't handle the day-to-day homeowner tasks.
Building a Basic Tool Kit
You can always buy a beginner's tool kit set with somewhere between a dozen and two hundred items that you may or may not ever find reasons to use. The more sensible approach for everyday homeowners is to slowly accumulate a tool kit with functional items that don't just sit around collecting dust. Tools bought to accomplish today's task make tomorrow's less expensive, too!
Over time, as you take on more DIY projects, you'll want to consider adding to your tool kit. New tools might even encourage you to take on more complex home projects!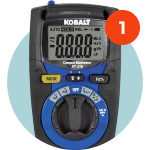 The primary and most important function of a digital multimeter, according to our Experts, is measuring electrical properties, such as voltage, current, and resistance. It is a versatile tool that can be used in a wide variety of applications, including troubleshooting and repairing electronic devices, testing batteries, and measuring the continuity of circuits.
Now You Can Go Beyond Your Starter Tool Kit.
Now that you've acquired some of the basics for your toolkit, here are a few more tools you're sure to need as you progress on your homeowner journey:
Clamps
Wire cutters
Handsaw
Chisel set
Socket set
Stud finder
Cordless drill
Cordless blower
Caulking gun and putty knives
Paint brushes and rollers
Sandpaper and sanding blocks
Workbench and a vise
Wider variety of hardware
Additional safety equipment
Large tool chest with many drawers
Storage bins for additional organization
Need Help With a Home Project?
If you have a home repair or maintenance project that you aren't sure how to tackle, our Frontdoor Experts are here to help. They can guide you through a repair, help you figure out next steps, or help you determine if a particular project is best left to the Pros. We'll even help you find a vetted, local Pro if in-home help is needed.
Don't Have the Frontdoor App Yet?
Getting started is as easy as downloading the app and speaking with one of our plumbing, electrical, appliance, HVAC, or handyperson Experts in real time.
When you need to take on a household repair or just have a question, you're going to want to call the Frontdoor Experts. They have an average of 20 years of experience in their trade and can help 7 days a week from 7 am – 10 pm EST.
Download the app if you haven't already, and sign up for a Frontdoor membership today.
Frontdoor assumes no responsibility, and specifically disclaims all liability, for your use of any and all information contained herein.
Was this article helpful?